Building and Rebuilding Tradition in New York's Historic Finger Lakes
Building and Rebuilding Tradition in New York's Historic Finger Lakes
Reprinted from Builder/Architect Magazine
The village of Palmyra, New York is steeped in more than two centuries of history; it is the birthplace of the Mormon religion. It is known for a church on each corner on the main intersection, and for a flagpole patterned after the Eiffel Tower. Palmyra is also a port on the historic Erie Canal. There is a warehouse on Canal Street, along the banks of Clinton's Ditch, that dates from the period when the canal was a thriving commercial waterway. Though unrestored, this building does not wear the ravages of time. Instead, it continues to serve as a reminder of this canal town's colorful past. Inside, the building's purpose is far different from what it was when built during the 19th century. Today, the old warehouse serves as the headquarters for Van Scott Builders, Inc.
Van Scott's warehouse includes a complete woodworking facility, as well as offices and materials storage areas. That's because the company's stock-in-trade includes, among its specialties, this remodeling and restoration of traditional and historic buildings, and the intricate, ornate millwork that is often required for this type of project. With a well-equipped shop, staffed by talented carpenters, Van Scott Builders, Inc. now constructs new homes, as well as remodeling and restoring existing structures.
Looking Back
Van Scott Builders, Inc. traces its heritage to 1948, when brothers Joseph and Charles Van Scott, both construction technology graduates of New York University at Delhi, established a custom carpentry business. During the post-World War II building boom, they offered their services as contract carpenters to the busy home builders in the Irondequoit area. In 1951, Joseph and Charles moved to Palmyra and formed Van Scott Brothers, Inc. to build custom homes.
During the 1950's, the brothers were primarily spot builders. Toward the end of the decade, as the business matured, they took in a third partner, and began some land development and tract building. Although building in tracts, all of the Van Scott homes were pre-sold and custom-built by qualified staff employees, rather than using less expensive, less consistent subcontractors. The Van Scotts had adopted a policy of spending their "advertising dollars" to assure each customer was totally satisfied, and therefore assuring themselves of a steady supply of referrals and sales leads.
Early in the 1970's, Joseph Van Scott purchased the total ownership of the company from his retiring partners, and expanded into the remodeling business to serve to changing needs of the owners of existing Van Scott-built homes. Word spread quickly through the company's market areas of Canandaigua, Sodus Point and the historic canal town of Palmyra, Macedon and Fairport that the Van Scotts were now in the remodeling business, as well as building new homes.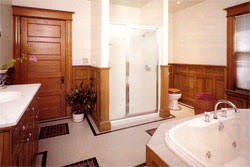 In the late 1970's Van Scott Builders, Inc. took on a new dimension when Joseph's youngest son, Peter, joined the staff. Peter Van Scott is a very precise person, with a tremendous talent for cabinetmaking and millwork fabrication. His talents enabled Van Scott Builders to recreate missing or damaged woodwork for older homes. This launched the company into the restoration of many of the older historic homes in the Finger Lakes area.
Joseph's eldest son, Paul Van Scott, joined the business in the late 1980s, bringing his background in sales and business management to the company's mix of talents. Peter's wife Deborah now runs the office, making it truly a family affair. Through all the growth, you can still find Joseph doing what he likes best — swinging a hammer to make his customers' dreams into reality. His idea of retirement was to get out from behind the desk and back to his roots in the field.
Resurgence of Custom Home Building
Today, the remodeling and restoration business continues to grow along with a resurgence of true custom-built new homes. The company now employs 10 people, and an equal number of specialized subcontractors. Supplementing the actual construction, the Van Scotts employ the services of a designer and several architects to take a client's ideas from inception to planning and though completion. Paul explains that staff people handle all project management, carpentry, and finish work. Subcontractors and suppliers, many of whom have been associated with the form for several decades, are specialists contracted primarily for their expertise in their respective fields.
The present growth segment of the Van Scotts' business is in kitchen and bathroom remodeling. To assure the company's reputation of excellence, they have established a professional relationship with a well-respected custom wood cabinet manufacturer, and a custom countertop fabricator — not surprisingly, both are family-owned and operated firms!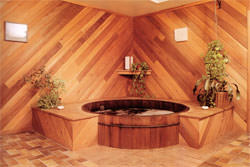 In addition to residential projects, their endeavors include a large plaster renovation for a Manchester, New York church ceiling that had recently suffered a substantial amount of water damage. Several area churches regularly employ the Van Scotts for their structural and cosmetic needs. The firm also works for the local historical societies to preserve and protect the local landmarks. Museum and library curators have found their way to the Van Scotts' old warehouse for casework and display fabrications. One such museum houses one of the world's largest collections of antique and unusual clocks, many of which are irreplaceable. Some of these clocks had to be in sealed enclosures, but still displayed. The Van Scott craftsmen built beautiful oak-and-glass display cabinets for the museum to show off its collection.
This attention to detail is one of the reasons that more and more people are turning to the Van Scott family to handcraft their new home or to remodel their existing home to suit their current needs. By working very closely with the homeowner, making any adjustments or changes as the project progresses, and assuring the customers' satisfaction by taking any extra steps required to achieve a superb end product, the Van Scotts also assure their continue operation through customer referrals and repeat business.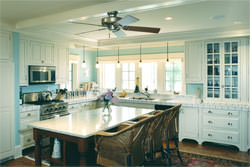 In the past decade, Van Scott Builders' volume has increased tenfold, placing the firm solidly in the top two percent of the nation's modeling contractors. Joe Van Scott attributes the company's success to their hands-on approach to every job. The company' next step may be a showroom to display its millwork capabilities and cabinetry wares, but, as Van Scott points out, the company is compromised of skilled craftspeople, rather than marketers, noting that these are the first authorized photographs of company projects!
Van Scott Builders, Inc. is active in trade associations as members of the National Association of Home Builders and the NAHB's Remodelers Council. Paul Van Scott is a past president of the Central Lakes Home Builders Association, the local chapter of the NAHB. Membership to these organizations provides the firm with current information regarding industry regulations, new products and current business trends.
Realizing continues expansion involves keeping an elite group of tradespeople motivated and productive, Van Scott Builders has taken several steps, such as retaining the services of a prominent motivational trainer to conduct a series of seminars to foster employee interaction. The company also offers a health insurance program, pension plan, and advancement opportunities, all designed to promote employee longevity and satisfaction. As Paul explains, "People are the key to our business, and we are willing to make a substantial investment in the best people we can find."
When you ask Van Scott family member to describe their business philosophy in a single word, several adjectives come up—words like quality, consistency, dependability, professionalism, involvement and skill. That is the way the Van Scott family want to keep it, and why they continue to be hands-on builders. If that limit what the company can produce, that's all right with them. Van Scott quality speaks for itself, and that is a 46-year tradition that will not be compromised.